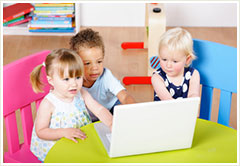 Gigglebytes®
Why offer GiggleBytes in your center?
With almost 15 years of experience working with thousands of childcare centers, preschools and schools around the country, we understand what directors want and need in enrichment programs. We work hard to make our programs fit your center's schedule, philosophy and needs.
Research shows that it is the teacher's knowledge and skills about the technology that makes the difference with young children, not the technology itself. Even if your center has computers available for children to use, busy classroom teachers may not have the time to interact with children and support their learning on a regular, consistent basis. Providing developmentally appropriate experiences for children with technology requires an understanding of technology paired with a knowledge of child development theories and developmentally appropriate practice. GiggleBytes teachers have the knowledge and experience to help children make the most of technology.
Learn more about the common technology myths that many preschool educators believe are facts on the NAEYC website:
http://www.naeyc.org/files/yc/file/200311/CommonTechnoMyths.pdf
Some of the things directors love about GiggleBytes:
No cost to you
A convenient service for busy families
Professional, caring teachers
Technology classes are consistently in demand by parents
We take care of everything – secure online registration and payment system
Our time tested, educator designed curriculum is developmentally appropriate
Qualified, experienced teachers provide a small group learning environment