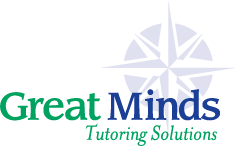 Great Minds Tutoring
Are you a "people person?" Do you thrive on interacting with other people and excel at interpersonal relationships? Do you have a background in education? If so, Great Minds might be the program for you!
The Great Minds tutoring program will allow you to build a professional tutoring business that brings great tutors together with students in need to create a business that makes a positive difference in your community.
We provide the support you need including a powerful, adaptive, online assessment to pinpoint a student's needs and a comprehensive online tutor/client management tool.
Children who experience difficulty in school often become frustrated and unmotivated in their work. Our tutors work to mentor and motivate these kids. As they experience success and gain a sense of accomplishment their self-esteem soars. Great Minds is more than skills and motivation. We also teach children valuable life skills such as test taking, time management, and goal setting.