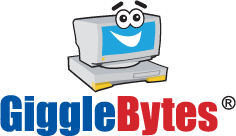 Gigglebytes®
Do you enjoy working with children in a small group environment? Do you believe that technology offers tremendous opportunities for learning? Do you have a basic knowledge of computers and technology? If so, then GiggleBytes® may be the program for you.
GiggleBytes® classes are offered in daycare centers, preschools, and private schools. After school, weekend and day camp programs for older children allow for flexible hours and income streams.
GiggleBytes® introduces preschool children to the wonderful world of technology, but GiggleBytes® is more than just computers! Teachers implement our proprietary curriculum and work with each child to help him/her develop important academic skills including; letter and number recognition, shapes and colors, pre reading skills, phonics, spatial relations, auditory and visual discrimination, and much more! Exciting STEM (science, technology, engineering, and math) camps and classes for school age kids expand the GiggleBytes curriculum
Parents whose children have participated in the GiggleBytes® program rave about it. Some of the comments we've received from parents are as follows:
"The best money I've ever spent!"
"His kindergarten teacher said the GiggleBytes® classes really made a difference."
"She loves the classes, I think they're really good because they're working on all the skills she'll need in school. I feel like she's getting more out of GiggleBytes® than her regular class."